Light of Hope Evangelical Church (LOHEC)
Welcome to the
Light of Hope Evangelical Church, Kiev, Ukraine
Understanding Our Church
The ministry of our church is to help people to establish a salvation covenant with God through repentance of sin and faith in Jesus Christ. All people are sinful by nature and separated from their Creator. God sent His Son Jesus Christ to teach us God's truth and to suffer the full punishment for our sin. Jesus opened a way for us to receive forgiveness and be spiritually reborn.
Then God calls us to actively participate in a community of Christians (a church) where we begin to learn how to obey the teachings of the Lord. Through close fellowship with other Christians, each person will then be able to learn and grow spiritually.
Jesus commands His followers to love one another. So we can't be a Christian with being deeply involved in a church. All of our church members belong to one of our small communities of believers called a Cell Group. Each group meets once a week in group members' homes in order to better understand how to apply the teachings of the Bible to their lives. They also work together to share Jesus's teachings with non-believers.
You will find warm, loving fellowship in all of our groups. At each group meeting we worship God together, share problems and spiritual struggles, offer advice and encouragement from the Bible, and pray for one another's individual needs. Each person in the group receives the personal care of the whole group. Being a part of one of our Cell Groups is like having the help and support of a loving family.
Each Cell Group is led by a Cell Leader. You may identify our Cell Leaders by the blue name tag that they are wearing today. They will be more than happy to answer any of your questions about the ministries of our Cell Groups.
We warmly welcome you to a church of Jesus Christ, as He and His Apostles really meant it to be.
---
Our Biblical Faith
Our faith is Apostolic, historic Christianity taken solely from the Bible. We believe that the Bible is God's Word and is, therefore, the only authoritative source for our faith.
We don't accept the religious authority of church traditions, legends, or superstitions created by men, or the teachings of historic church leaders as a part of the foundation of our faith. Often such man-made beliefs which are accepted by the Orthodox and Roman Catholic churches directly contradict clear teachings of the Bible.
We do not have priests in our church because after Jesus was born into this world, the Bible says that He alone is our high priest (Heb. 5:5,6) and that all spiritually re-born Christians are now a "royal priesthood" (1 Pet 2:4,5). We neither pray to, nor worship saints or Mary or anyone other than God himself because the first commandment of the Ten Commandments forbids this. Nor do we pray to or worship pictures, icons, or statues because this is forbidden by God in the second commandment of the Ten Commandments.
We believe that Jesus Christ is the Savior of mankind and that anyone who will turn away from sin and enter into a covenant of faith with Him will be saved from the destructive effects of sin and the coming judgement of God.
We believe that Jesus commands His followers to gather together as a community of faith for the purpose of loving and caring for one another and for proclaiming God's offer of salvation to all sinners. The Bible tells us that it is impossible for a person to claim to be a Christian without active loving participation in a community of Christians, a church.
---
Every Christian Needs a Cell Group
No person can be a follower of Jesus Christ without close, personal relationships with other Christians. Jesus says, "A new commandment give I to you, that you love one another as I have loved you." How can a person obey that command by just attending a religious worship service once or twice a year, or even once-a-week? It's just not possible!
Jesus requires his followers to establish a network of loving relationships with other believers for the purpose of ministering to one another's needs and for helping sinners find forgiveness from God and a personal, spiritual re-birth.
One-hundred percent of the members of LOHEC are actively involved in small fellowship groups or "spiritual families" whose goal is to serve and care for one another in any way possible and at any time during the week. The members of our groups have a living and loving friendship with each other based upon the love of Jesus Christ.
Each cell group meets at least once-per-week in the home of one of its members. They meet in a different home each week. This allows all the members to demonstrate true Christian hospitality with their Christian "family".
ach group gathers to worship our Lord together, to pray for one another, to listen to one another's problems or struggles, to offer support and advice, and to strengthen one another's faith. Toward the end of each meeting they also organize ministry teams who will serve other believers or share the Gospel with sinners during the coming week. These meetings are wonderful times of loving, warm fellowship with our living Lord Jesus and with other followers of Jesus. Cell members do not allow other spiritually less important things to hinder their consistent attendance at their cell meetings every week.
Each cell group is under the leadership of a Cell Leader who cares for the spiritual lives of his group members. While he is trained and directed in his ministry by a Cell Supervisor and by the Senior Pastor of our church, he leads the group by the example of his own Christian life. Each Cell Leader freely gives his time and efforts to serve his group well and is worthy of the love and respect of each member as he serves them diligently and sacrificially.
---
Cells Are United As a Church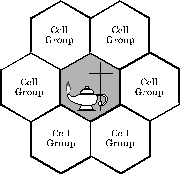 Every person has a nuclear family that is small, and an extended family which includes aunts and uncles and cousins. The cell group is kind of like our nuclear family. But there is an extended family as well. Each cell group is a part of a larger community of believers called a church. All of our cell groups meet together every Sunday morning to celebrate the resurrection of our Lord and Savior Jesus Christ from the dead. True Biblical Christians all over the world set aside Sunday as a day of rest from their work and for worship to their Creator.
The Sunday morning Resurrection Celebrations include singing our praises and adoration to God, sharing testimonies of God's work among us, the systematic teaching of the Bible, and a time of prayer for spiritual needs within the body.
We are united in our faith and in our obedience to spread the Biblical Christian faith to the ends of the earth as Christ commanded. By God's grace we are God's covenant children to proclaim God's offer of peace to all people everywhere.
---
From the church history
In the Fall of 1992 a group of men and a missionary from US began to learn how to establish Biblical Christianity through the ministries of cell groups. They found that a Christian can best obey the commands of Jesus Christ if he is actively involved in a small family of Christians which we call a cell group. They didn't want a church where people only come on Sunday, just listen to sermons and go home. They wanted to help people become true Biblical disciples of the Lord Jesus Christ.
In March of 1993 we officially organized our cell group ministries into a pure cell group church. Because at each cell meeting we always serve tea and cookies, someone jokingly suggested we name our new church, The Church of Tea and Cookies!
One thing that many new visitors to our church have said to me is, "I've never seen such a wonderful group of loving people. They don't even know me, but they are so concerned about my life and my struggles. Why?" My answer is this: God loved them so much that He gave His only begotten Son, Jesus Christ, to die for their sins. In gratefulness for God's great love and forgiveness to them, they have chosen to live in such a way as to give that same kind of love to everyone they meet and know.
f you want to learn from the Bible how to live the life of a true Christian disciple, then Light of Hope is good place for you. A true Christian is one who is spiritually re-born by the Holy Spirit and who makes Jesus Christ the Lord of his life by careful obedience to commandments. I hope you will open your heart to Jesus and find the true joy of living for Him.
---
LOHEC now
Now we have 6 cell groups, among them one children group for children of two different age categories and one youth group for teenagers. The Lord has brought up for our church the Ukrainian pastor – Vadim Boiko. There are 22 official members in our church now.
Some pictures of our ministries and a picture of pastor Vadim are here:
| | | |
| --- | --- | --- |
| | | |
| Pastor Vadim Boiko | The group meeting, a party | Celebration: Christmas holiday |
Contact information:
The office phone number: +38(044)413-47-51 (11 AM to 5 PM)
Post address: Boiko Vadim, PO Box 7, 04120 Kiev Ukraine
The location of ministries holding: the ministries are hold in the small groups (you can call to our office to identify the location and the time of meeting the group which is close to your region).